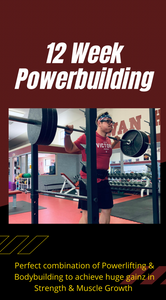 This 12 week program is the perfect combination of Powerlifting & Bodybuilding to develop huge gainz in strength & a physique to show it.
Training is 5 days a week. Includes access to our YouTube demo exercises, warm-ups, nutrition guide, and you can ask us for help anytime.
*By purchasing this program, you understand that there are risks in weight training. We are not responsible for any injuries that can occur in weight training. If you suffer an injury, see your local health care provider.