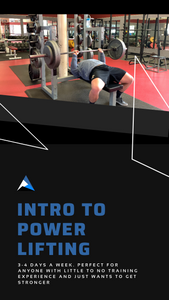 Whether you want to try getting into powerlifting or are a beginner to lifting in general, this program is perfect for you.
This program is 3-4 days per week for 12 weeks. Lifting starts out with lower volume and gradually increases each week to prepare you to max out and be stronger than ever after 12 weeks.
*By purchasing this program, you understand that there are risks in weight training. We are not responsible for any injuries that can occur in weight training. If you suffer an injury, see your local health care provider.