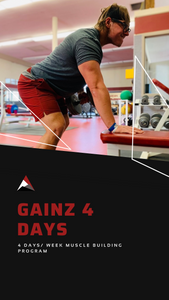 We know that everyone doesn't have 6 days a week to train. So we have the solution!
Similar to the Old School Hypertrophy program, this program is focused on getting lean and building muscle. But this program condenses that schedule into 3-4 training day per week.
Included in the program is a nutrition template to help you reach your goals.
*By purchasing this program, you understand that there are risks in weight training. We are not responsible for any injuries that can occur in weight training. If you suffer an injury, see your local health care provider.