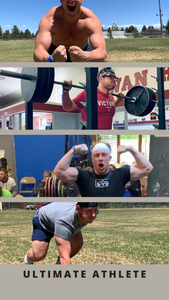 With this program you will be training like an ultimate athlete to improve your strength, speed, power and endurance. 
Training to be a well rounded athlete isn't easy, but we guarantee results with this 8 week program that you will be in the best shape of your life by the end.
If there are ever any questions about the program once you start, never hesitate to reach out to us by email or Instagram, or use our YouTube channel as a resource to guide you through the program.
Don't miss out on this limited time program!
*By purchasing this program, you understand that there are risks in weight training. We are not responsible for any injuries that can occur in weight training. If you suffer an injury, see your local health care provider.