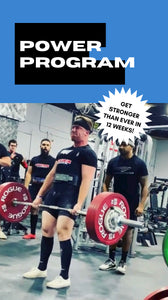 If you want to be stronger than you have ever been, then this program is for you. 
This program starts with 3 days per week to help you adjust to the volume and structure, then changes to 4 days throughout most of the program. Towards the very end, there is a 5 day structure. 
Inside the program is also a nutrition template to help you reach your goals.
*By purchasing this program, you understand that there are risks in weight training. We are not responsible for any injuries that can occur in weight training. If you suffer an injury, see your local health care provider.